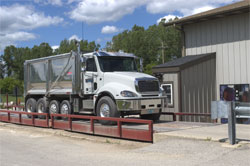 Wissota Sand & Gravel offers delivery services within a 25-mile radius of our Milwaukee, WI location. We use an in-house trucking firm to get products to our customers quickly and conveniently. This unique benefit gives our customers flexibility with delivery times and helps us work with our customers to meet all their needs.
If you have any questions regarding our
delivery area, please contact one of our
office locations listed below.
Milwaukee, Wisconsin
2800 Scenic Road
Richfield, WI 53076

Contact
Daryl Schmidt
Supervisor/Sales

Pam Lackas
Office Manager

(262) 644-5112 Local
(414) 531-5806 Cell
(262) 644-9230 Fax
(800) 239-7401 Toll Free

Winter Hours
Monday thru Friday
7:00 a.m. to 3:30 p.m.

Summer Hours
(Memorial Day - Labor Day)
Monday thru Friday
6:00 a.m. to 4:00 p.m.
Saturday (on-call)

Eau Claire, Wisconsin
Administrative Office Mailing Address
PO Box 1228
Eau Claire, WI 54702-1228
Contact
Angela Walter
Office Manager

((715) 495-0910
Normal Business Hours
Monday thru Friday
8:00 a.m. to 5:00 p.m.